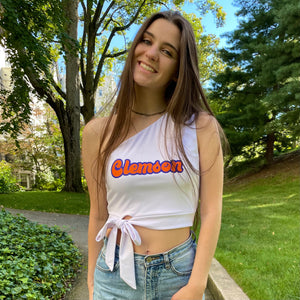 Emily Top - Click for more graphics!
One shoulder sweetheart.
This sweet one-shoulder top is a crowd pleaser! It features a functioning tie so you can tie a bow or wrap the tails around your waist! The top is available in almost every color in a stretchy, yet sturdy fabric! Paired with one of our custom graphics, this top is a great pic for showing your style and school pride!
How to works: First, choose your graphic! Then, enter your college/university (or whatever you'd like the shirt to say), add your shirt and text color preferences, pick your size, and you're ready to go!
Please allow up to three weeks for shipping as all items are custom made just for you!
---
You might also like: